Everyone at Fetch Dog Walking & Training is a dedicated professional with a great love for dogs. Most have either long term working experience and/or professional education in animal care including animal rescue and animal conservation.
All are CRB checked and public liability insured and we provide ongoing standardisation training as a team for your safety and peace of mind.
Here at Fetch we also have a set of values. Our company values help to ensure that all members of our team are working towards the same goals to give your dog the highest level of care with us. Our core values support our vision and shape our working Fetch culture.

We are deeply passionate about our job here at Fetch and are constantly studying, learning and improving our knowledge to provide you with the best service for you and your pooch.

We promise to take care and love your pet like they are our own. We will keep you updated regularly with messages and photos of your beloved dog on his/her adventures with us.

We will ensure you have peace of mind throughout your working day so that you can be worry free and come home to a happy, exercised and loving dog. We will provide regular daily updates.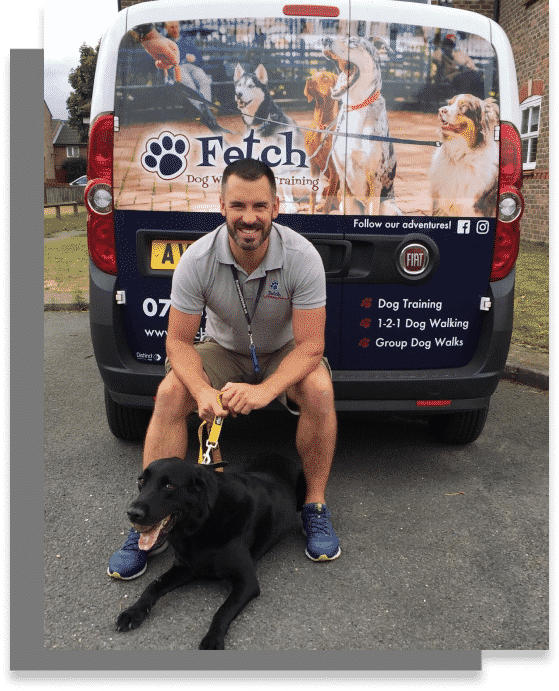 My name is Damion Vincent and I am the sole proprietor, dog walker and dog trainer of Fetch Dog Walking & Training Ltd.
My passion of working with animals began at a very early age. Throughout my career I have worked with and trained a variety of animals from dogs, sea lions, parrots and the smallest of reptiles! I have over 10 years valuable field experience working abroad in Mexico, South Africa, Tenerife and the USA.
Over the years, friends and family have entrusted their precious pets in my care because they trust my knowledge and abilities and knew that i would treat their dogs as my own. Spending my days with happy dogs is the ultimate job. What better job is there that allows you to be outside, throwing balls and getting muddy whilst being surrounded by a pack of happy hounds.
As a dog owner myself I understand the difficulty of finding someone who will care for your pets and respect your home. My clients can be rest assured that they will be provided with the highest degree of professionalism and heartfelt care for their four-legged family member.
Hello my name is Honey and i am delighted to be part of the Fetch team. I have studied dog grooming at Easton College in Norwich and have a deep rooted passion for working with dogs.

I have a Rottweiler called Tilly as my beloved companion so I am very used to working with dogs who have excessive energy to burn. I love dogs of all breeds, shapes and sizes and what could be better than being outside everyday with the lovable pooches.

My office doesn't have four walls. My workplace is woodland, parks, meadows, beaches and anywhere else that the hounds wish to have their playtime.

I am currently studying courses in animal behaviour and psychology to keep improving my knowledge to best care for your cute furry friends. I look forward to meeting you all..woof!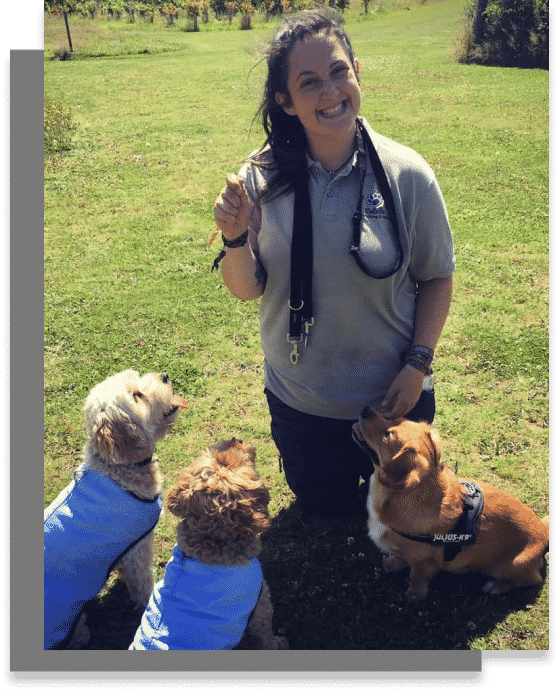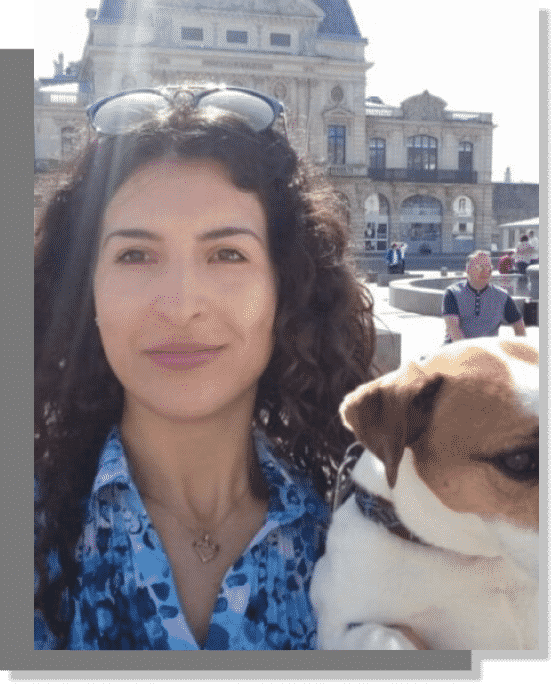 Hi my name is Ysatis-Sophia, and I'm very excited to be part of the Fetch Team.
I have been an animal lover all my life. I'm a vegan, and I'm mummy to my own dog Teddy, whom I rescued from a kill shelter in Romania. He was untrained, very malnourished, and had food aggression when he first arrived here. But I have trained him myself into a now, well behaved and loving family pet.
Before working for Fetch I was a teacher for 12 years, working in France, Italy and the UK, teaching children in primary school and adults in further education.
I was also a volunteer dog walker at an animal sanctuary in Norwich at the weekends. I've trained several dogs over the years, and looked after many more.I'm passionate about furthering my learning and understanding of dog psychology.
For as long as I can remember I've had a longing to work with dogs. I love getting to know them and each of their little unique personalities, so you can rest assured your canine companions will be in good hands.
Hi, my name is Sophie and I live local in Norwich with my two Labrapoodles.

After studying a Level 3 Diploma in Animal Care and Management, I have continued to work with dogs for over 4 years at a boarding kennel, cattery and most recently a doggy daycare centre.

In my spare time I love exercising, grooming and training my dogs. I am interested in canine behaviour and psychology and this is one area where I would love to develop my skills even further. I also have a keen interest in marine biology and conservation.

My favourite hobby is photography and my camera roll is full of pictures of dogs! I love being outdoors, socialising with my friends and attending music gigs and festivals.

Being part of the Fetch team is amazing and I enjoy meeting all the unique dogs and their personalities. I look forward to every adventure with your fur babies.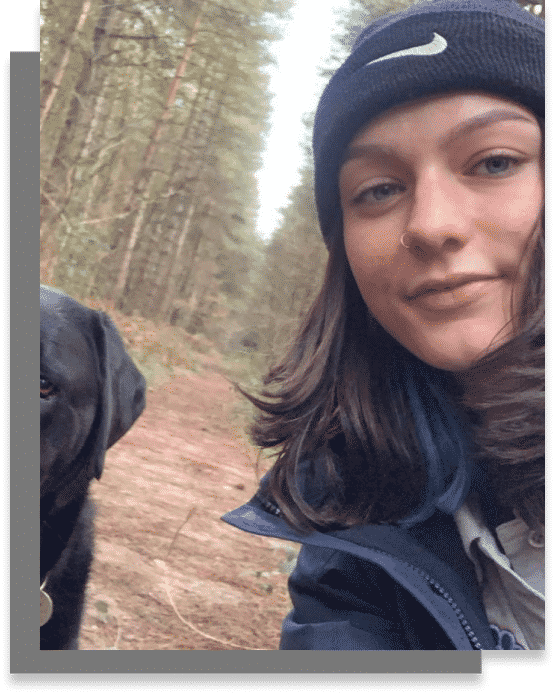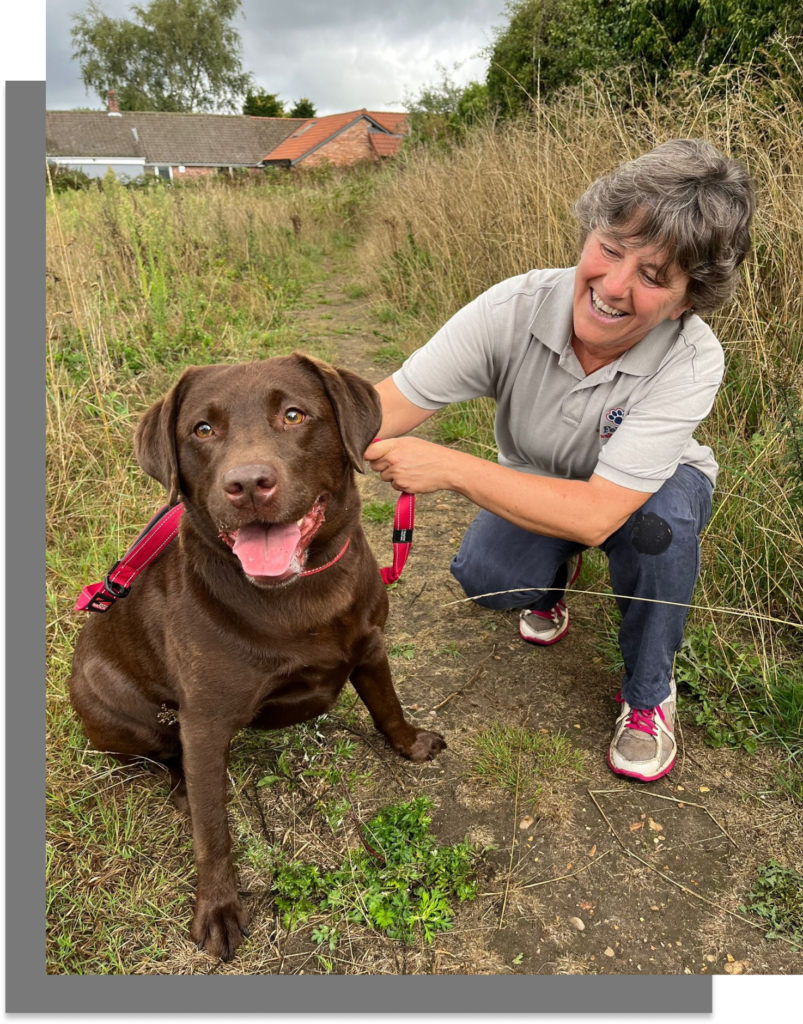 Hi my name is Tina and I am very excited to be joining the "Fetch" team. Trusting someone else with your dog means that you must be sure that this person is always going to do the right thing for them, and this is something that I will definitely do.
I have a great deal of experience, having grown up with several different breeds of dogs ranging from German Shepherds to Wired Haired Fox Terriers.
I have rescued/adopted three dogs over the last 25 years – an Old English Sheep dog, a Yorkshire Terrier and I currently have a beautiful Saluki – he is my baby boy and we spoil him something rotten. He is a nervous little chap so I have spent a great deal of time building up his confidence – calmness and patience are so important when you are caring for a dog.
All dogs have their own character and so it is really important to work with this and give the dog the best possible experience when you are out with them.
I love nothing more than being out in the fresh air come rain or shine and if I have a dog at my side, even better.
Hello, my name is Beth and I am thrilled to be part of the ever growing Fetch team.

I have been working within the animal sector for close to 10 years since being smitten with animals from a young age. My experience is mainly within the veterinary field having qualified as a registered veterinary nurse working in the UK and Canada.

I am now ready for a new exciting chapter working with Fetch which has stemmed from my great love of pets (especially my own miniature dachshund), interest in canine behavior and a love of the great outdoors. I cannot wait to support our Fetch pet owners alike and begin some new adventures with our lovable fur friends.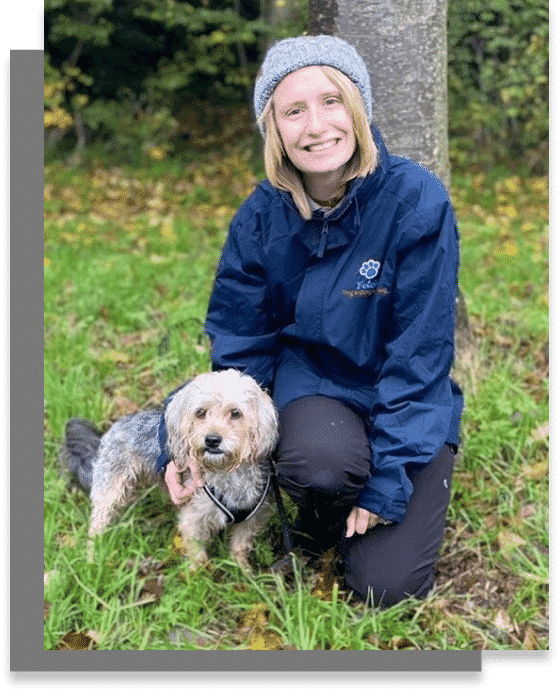 Level 3 Diploma in Canine Myotherapy
Level 3 Diploma in Pet Bereavement
Level 3 Diploma in Animal Psychology
Level 3 Diploma in Animal Communication
Level 3 Diploma in Marine Zoology
Pet Industry Federation Membership
PetPlan Dog Walking Insurance
Level 3 Certificate in Animal Management
Level 3 Veterinary Support Assistant 
Level 2 in Dog Training
Level 2 Award in Pet Nutrition
Level 2 Award in Pet First Aid & CPR
Full clean driving license (CRB checked)